About our new single Stronger Than Beer: "Woah! What a fabulous track! Now that has the blues, you know how much I love your music, guys!"
Jess T Country Radio DJ - CountryRadio.UK
Stronger Than Beer
lousy little gods
The latest single from lousy little gods !
Read more…
"About our new single Livin for the Fun: "It was really fun playing on this song. Almost felt like I was playing live again!"" - Aubrey Richmond- Violin & Vocals @ Mustangs of the West ~ Shooter Jennings ~ Duff McKagan ~ Sugar in the Gourd
"About our new single Livin for the Fun: "Another absolutely banging track-Im going to spin it out next week; same time and place ;-) You are superbly talented and the musicality and quality is phenomenal." - Jess T "All Hair, Nails, and Heart" jesst@countryradio.uk
Livin' for the Fun
lousy little gods
lousy little gods, with special guest Aubrey Richmond, credits include Shooter Jennings, Duff McKagan and more!
Read more…
"About our new single RAIN: "Congrats guys! Sounds great." - Johnny Stachela Slide Guitar Player with The Allman Betts Band
"About our new single RAIN: "By far the best version of the song yet ! You nailed it after all these years !! I've been playing the heck out of it ! " - Dale Didde - Kansas City Guitarist, played with Bonnie Raitt, Bill Lynch, Mike Finnagin
"About our new single- Livin for the Fun. "Listening few times this morning. Like the ending a lot. Kind of makes the point and feeling of the song stick. Great lyrics and great mix. Vocals are great and really speak to the listener. Aubrey Richmond makes it come together with all the fiddle rides and subtle nuances of licks kind of answering the lines in each verse. Another comment: the bass player and drummer resemble the kind of hearty/snappy bass/ drummer mix to keep it all going but not too busy. I always thought the perfect combination of a drummer and bass player who complimented each other was Keith Moon and John Entwhistle from The Who. Both kicked ass on their instruments but never got in each other's way. The combined their individual instruments to enhance the cadence/syncopation of the song without ever walking on the "thrust" of the song. Your drummer and bass player are showing their musical integrity and maturity in the manner in which they balance the song. Kudos fellas!!!"" - Dale Didde - Kansas City Guitarist, played with Bonnie Raitt, Bill Lynch, Mike Finnagin
lousy little gods, with special guests Johnny Stachela from the Allman Betts Band.
Read more…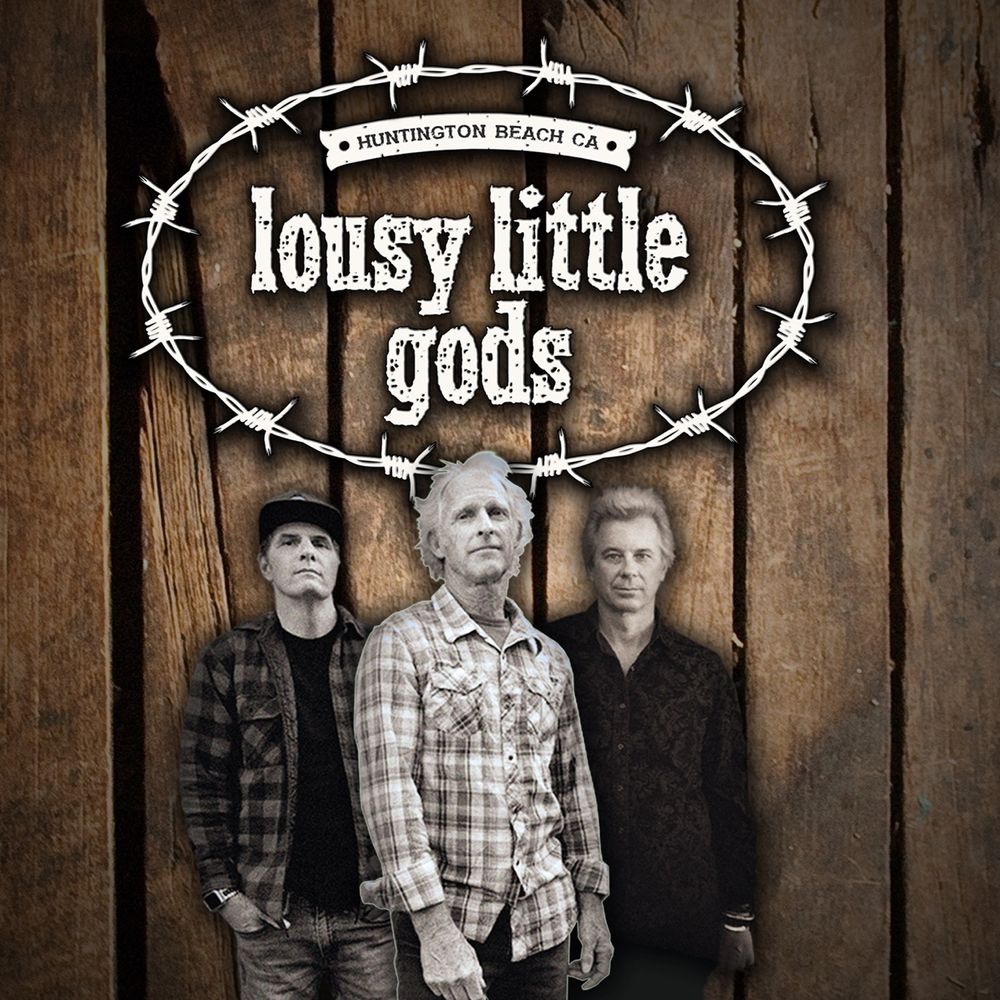 The Band
The Americana group Lousy Little Gods hail from Huntington Beach California and consist of Randy Davis (Guitar, Lead Vocals), Ken Kowalski (Drums and Percussion), and Darren Smith (Bass, Keys and Vocals). The trio along with some extra special guests create a unique mixture of rock, country, and R & B that truly captures the heart of Americana music.
The current lineup formed in 2018, and have been playing shows and recording music throughout Southern California ever since.
Principal songwriter Randy Davis weaves colorful themes through relatable prose, and in his guitar playing you can hear the country rock influences he grew up with.
Ken Kowalski comes from a hard rock, heavy metal background, and explores this new twist on the Amercana genre with his driving originality.
Darren Smith's playing interweaves with Randy's guitar and vocals and his Alt Rock/ Punk history adds another eclectic layer to this Americana musical journey.
"This three headed monster somehow pull off something new, yet gives the audience a familiar vibe."
The History:
Singer/Songwriter Randy Davis' band lousy little gods were a fixture in the Southern California music scene and opened for the Doobie Brothers, 38 Special and playing just about every venue in the region, but In the late 90's the band scattered across the country with bassist Greg Boyer heading back to Kansas, guitarist Rick Weller moving on to Utah, and drummer Jon Schwartz (on loan from Al Yankovic) returned to his duties with Weird Al and is still rocking with him today. About 3 years ago Randy, Greg and Rick reunited to do some long distance collaboration and after just a few months back at it, Rick tragically passed away. Rick was an amazing human being and complete guitar god, and the loss was devastating. Greg and Randy forged on with Randy writing and recording tracks and Greg adding additional performance tracks as well as producing. As things progressed, Randy decided it was time to put together a live act again, and as fate would have it he met former hard rock drummer Ken Kowalski, and the two put a slightly different twist on Randy's compositions, with Greg settled in Kansas, Randy and Ken began the search for a local bassist and auditioned Alt/Punk Bassist Darren Smith. The three formed the ingredients for an interesting recipe resulting in a new twist on the Americana genre and are playing a hybrid influence of rock, country, bluegrass, and blues that reaches all age groups and tastes. Randy's lyrics are cathartic and relatable and coupled with his vocal delivery leaves the audience buzzing with a sense of both originality and familiarity.  
Ken doesn't just keep time, he sets and drives the mood and adds a real spark to the music by adding both classical country precision with power rock aggression and his dynamics are top notch.  
Darren Smith keeps the low end interesting with influences ranging from James Jamerson and Carol Kaye to Paul Simonon and Mike Watt.   
The band believes in the live groove and when you hear them on record that's what you will hear when you see them play live.  The groove is tight, and for a 3 piece outfit the sound is big. The band has been hard at work crafting their sound for live shows that are the true nature of their essence. The boys are currently playing shows in the SoCal area, so become a follower of the lousy little gods, whose message is simple: "Music is Essential to Humanity".